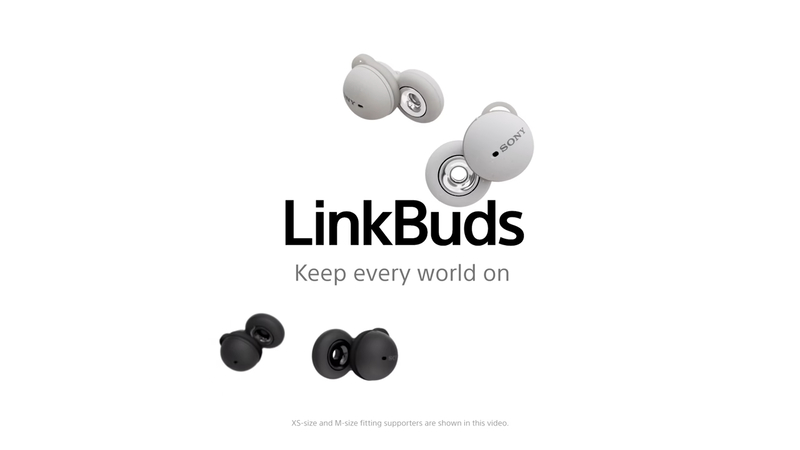 Hey there, these are sony's new link buds, and I have to say I was a bit surprised when I first got my hands on them. They have an actual name you can easily remember, for starters, and not some funky model number. Then there's the whole ring thing kind of weird. Let's talk about that, so as far as the name goes, Sony says the concept behind the link buds was to make an always-on product to link your online and offline.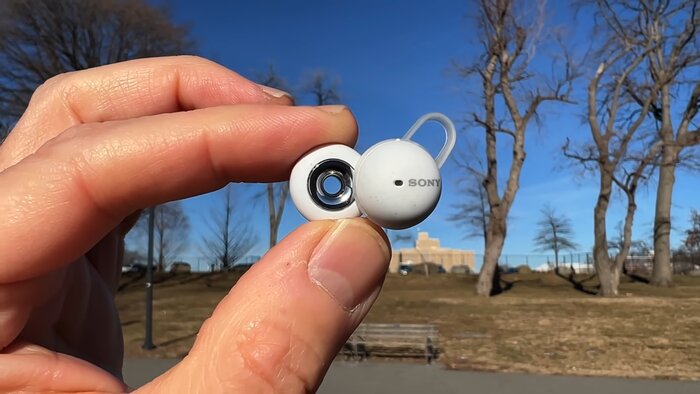 I'm not quite sure what that means, but the idea is that these buds are supposed to be comfortable to wear around all the time while not shutting you off from the outside world.
That's where the ring comes in. These are open earbuds like the standard AirPods. They allow ambient noise in, but in some ways, they're more akin to Samsung's galaxy buds live earbuds, aka the beans, because they have a stemless design.
Although they're not precisely kidney-shaped, they are elongated come in two color options speckled white and speckled carbon.
Sony says both the case and buds are made from recycled plastic, which may be a first for earbuds. They cost 180 dollars.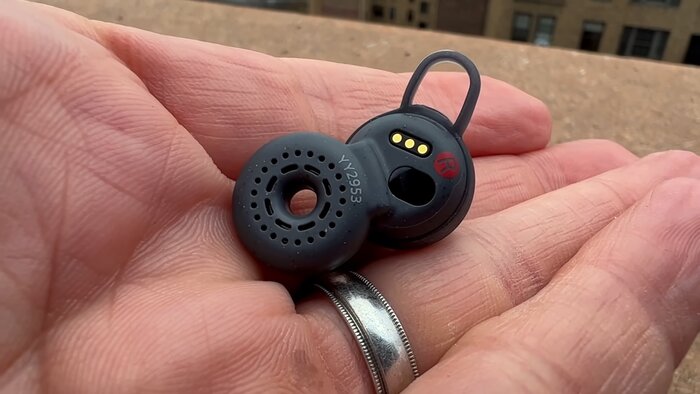 I'll get into whether I think they're a good value toward the end of the video. Still, Sony is basically in line with what the AirPods third generation and galaxy buds live cost when they first launched.
The one significant advantage these have over the AirPods third generation and the galaxy buds are designed to stay in your ears securely.
I was able to get a good fit with the buds live and a pretty good fit with the air pods three, but I've seen plenty of comments from people who couldn't get the buzz live to stay in their ears.
Not everybody can get a secure fit with the air pods, which is why you see all those AirPods winning accessories selling on amazon.
The link buds come with five different sizes of fins or arc supporters. As sony calls them, the medium is the default size, but extra small, small-large, and extra-large, the large and extra-large worked well for my ears.
The thin wedges under that top ridge on your ear help lock the butt in place, I wouldn't say these lock-in reasonably as well as the beats fit pro, but they're arguably more comfortable particularly.
If you're someone who doesn't like having an ear tip jammed in your ear, it's pretty self-explanatory.
It's partially hidden, so people can't see it from the outside anyway. It just looks like you're wearing regular buds. You may not forget you're wearing earbuds.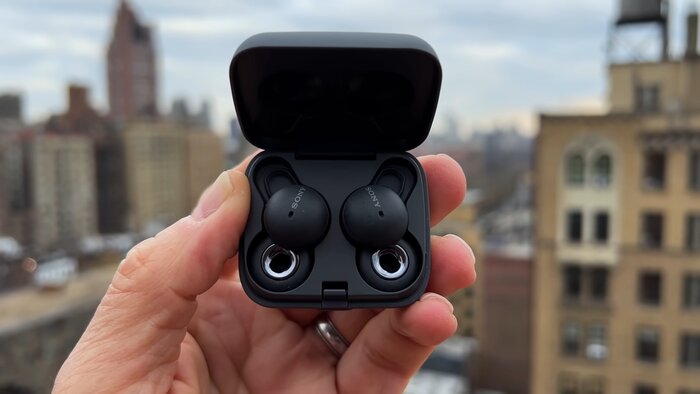 They may not fit everybody's ears perfectly, but I found them quite comfortable to wear from time to time. I did make slight adjustments to how they sat in my ears.
You can tweak this out in the companion app for ios and android, but changing the eq settings doesn't dramatically change.
The sound profile engaging bass boost, for example, only gets you a touch more bass.
These use sony's v1 integrated processor, which is its version of a Bluetooth system on a chip it's Bluetooth 5.2, and like the sony wf-1000x mark iv, the link buds, unfortunately, do not support multi-point Bluetooth.
Pairing that feature allows you to connect the butts to two devices simultaneously, like your smartphone and your computer, and easily switch audio back and forth between the devices sony says these have 12-millimeter drivers.
The buds are ipx4 splash-proof. I got some shots of them in the rain was a little worried I might have earned them a little too wet, but after I dried them off, they worked fine so that you can use them for workouts and runs, and they did stay in my ears when I ran with them these are not noise-canceling earbuds.
They don't have a transparency mode because they're naturally transparent. If you pause your music, it sounds as if you're not wearing earbuds.
The link buds have a few extra features, and a couple of them are pretty cool. These have ear detection sensors, so when you take a bud out of your ear, your music automatically pauses and then resumes when you put the butt back in your ear.
Yes, you can use a single bud for audio listening and leave the other one charging in the case if you want. The buds have touch controls, and they work just fine but what's cool is if you wish to instead of tapping on a bud.
You can tap on your face just in front of your ear sony calls the feature wide-area tap, and you can turn it on or off in the companion app. It's two taps to pause your music and three taps to advance the track. You can also set taps for volume controls.
The link buttons also carry over sony's speak-to-chat feature found in its wf-1000x mark four buds and wh 1000x mark four over-ear headphones. That's the feature where if you start talking to someone, your music automatically pauses so you can have a conversation with the music then resumes about 15 seconds after you stop talking. If you talk to yourself a lot or maybe talk to your pets too much, you might want to turn the feature off in the app.
The battery life of link buds is rated up to 5.5 hours at moderate volume levels, so it's not stellar. Still, the case does provide a couple of extra charges and has a quick charge feature that gives you 90 minutes of playback time from a 10-minute charge. It does use up a touch more battery life when you have it on.
How do these sound good but not as good as the wf-1000 Xbox 4, and they fall a tad short of the AirPods third generation, which offer improved sound from the AirPods second generation they have a nice.
Open natural sound well balanced with good detail and just enough bass. Still, like many available earbuds, they don't deliver the same kind of bass response as a set of noise-isolating earbuds.
While they have sony's use digital sound-enhancing feature, that does make your music sound a little fuller.
There's no support for sony's near-lossless LDAP codec like there is with the wf-1000x mark iv. They also have the same issue that open earbuds have in noisier environments. They let sound in, so whatever you're listening to competes with whatever ambient sound.
For many people, you encounter a feature, not a bug, and for safety reasons, you often want to hear the outside world.
Still, you should be aware that despite having an adaptive volume control feature that automatically adjusts the volume to your environment, some folks may have an issue with how loud these play. I paired them with an iPhone 13 pro and the google pixel 4 plus.
Stream music from apple music, Spotify, and quotas. There were some variation volume levels across devices and streaming surfaces, and I think how your ear-shaped and the speaker ring sits in your ear can affect volume levels. Some people may think they play plenty loud, while others may not particularly.
Sony is targeting the link buds at Jen's ears when you're outdoors and dealing with competing sounds, including wind noise.
I guess it doesn't want to kill younger peeps' ears which I do appreciate with my ears anyway. The AirPods 3 played a little bit louder and had a slightly bigger sound overall, so did the galaxy butts live, but those can distort a bit at higher volume levels. As I said, sony's wf-1000x mark iv have these beats for sound quality.
Weirdly the link buds are better for making voice calls. Sony won't say how many microphones the link butts have. I see only one external one on each butt, but it says it's improved the noise reduction algorithm, and callers told me they thought my voice sounded clear with minimal background noise in the noisy streets of new york city.
They have surprisingly good voice calling performance. I hope sony brings that same new algorithm to the wf-1000x mark iv with a firmware upgrade.
I'll finish this article by saying that I'm generally impressed with what Sony has done with the link buzz, and that's not just because it gave them a real name. Open earbuds are challenging to do well. These have an innovative design. Not only are they supremely comfortable to wear, but they stay in my ears well.
Even if they don't play as loud as I'd like in noisier environments, they sound good for open buds, and I am a fan of the speak-to-chat and wide-area tap features. These are an excellent alternative to the AirPods, particularly for Android users who can't take advantage of some AirPods apples.
There are only extra features like spatial audio. If you have trouble keeping AirPods in your ears, they have to google fast pair.
While they feel premium enough, they're missing features like wireless charging, and both the case and buds don't quite feel as substantial compared to what you get with the wf-1000xmark4. The link butts are a little expensive at 180. but I do think there's room for some discounting.
So as the galaxy buds live, I think you'll see the street price on these come down fairly quickly but let me know what you think.
Does the link buzz design seem appealing to you?